Composer • Compositions

Selected Compositions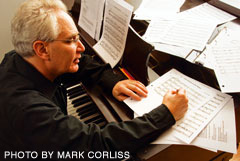 Perception (2015), Portrait #4
Nunia (2014), Portrait #3
The Best Thing (2011), Portrait #1
What We No Longer Know (2010), Song Cycle on poems of Jennifer Militello
Ballad, for violin and piano (2010)
Kaddish (2008/2010), in versions for chamber orchestra and full symphony orchestra
The Light Staccato of Souls (2007), for soprano, violin, and piano.
Piano Quartet on Themes of Kaddish (2006), for Apple Hill Chamber Players.
All Go Forward and Back! (2005), a retrospective recording of fifteen years of "Verbatim Projects:" music-theater residencies with communities, schools and organizations.
Beo/wulf (2004), a music-theater work for Andy"s Summer Playhouse combining Beowulf with a Surrealist farce (with Kevin Crossley-Holland and Andrew Periale).
Climate Change -The Musical! (2003), a project to promote dialogue about climate change, utilizing theater to stimulate public discussion and personal engagement.
A celebration of The New Hampshire Character (2002), for the New Hampshire Charitable Foundation.
Monadnock Tales (2002), a tone poem with narrator (with Edie Clark).
The People's House (2000), an original musical set in the New Hampshire State Legislature (with Congressman Paul Hodes, NH 2nd district).